Americans May Get Their Money in March
How's that for good news? Millions of Americans have been hurting financially since the coronavirus…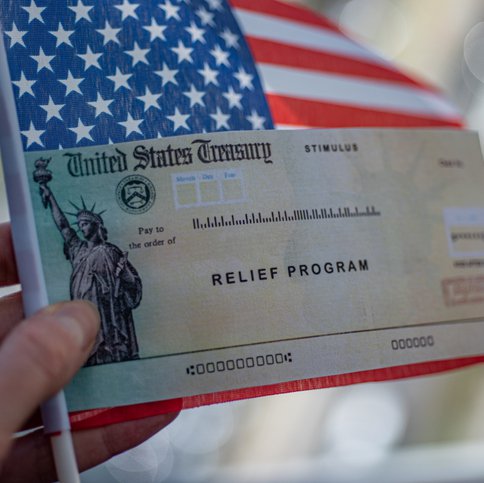 How's that for good news?
Millions of Americans have been hurting financially since the coronavirus pandemic took hold almost a year ago. Unemployment has been rampant, and in the absence of adequate childcare, many parents have been forced to cut their hours or drop out of the labor force altogether, thereby resulting in income loss.
President Joe Biden, however, is intent on providing near-term aid to the public. He's proposed a $1.9 trillion relief package that includes extended and boosted unemployment benefits as well as an additional $1,400 stimulus payment. And now, it seems as though that payment may hit Americans' bank accounts as early as mid to late March.
Relief is on the way
Last week, House Speaker Nancy Pelosi said she's confident a relief package will be signed into law before the middle of March. That's when extended unemployment benefits are set to expire for many people who are currently receiving jobless aid.
If Pelosi's timeline is correct, then Americans who are in line to receive a stimulus payment via direct deposit could start seeing that cash in mid-March, since the IRS only needs a few days to get those payments out to the public. Those who aren't signed up for direct deposit may need to wait a number of weeks beyond mid-March to receive a paper check or debit card with stimulus funds in the mail. But even in that scenario, it's possible that those who aren't getting direct deposit will still have their money by late March or early to mid-April.
A big part of the reason things are moving so quickly this time around is that Democrats aren't wasting time negotiating with Republican lawmakers. Rather, they're pushing their relief legislation forward through a process known as reconciliation.
Who's in line for a third stimulus check?
The income thresholds for stimulus eligibility are looking like they'll be the same for this third round as they were for previous rounds. Individuals earning $75,000 or less and married couples earning $150,000 or less will be in line for a full stimulus, and from there, those payments will start to phase out.
The only difference is that this time around, payments may be cut off for individuals earning $100,000 and married couples earning $200,000. The goal of this is to prevent higher earners from getting stimulus funds — something Republicans have been opposed to from the start. In fact, agreeing to this cutoff is a compromise of sorts on Democrats' part, though some Republican lawmakers had initially asked for even lower income thresholds for this third stimulus round.
Given the number of Americans who are still unemployed or struggling with extra expenses during the pandemic, quick relief on the stimulus front is important. If stimulus checks do go out in late March or early April, that money could end up coinciding with tax refunds (the IRS officially started accepting returns on Feb. 12). The result? Those who are having a hard time making ends meet may actually have a chance to dig out, regroup, and perhaps even stash some money away for a rainy day.